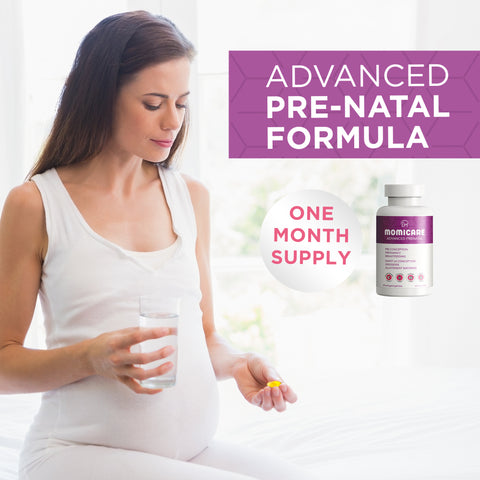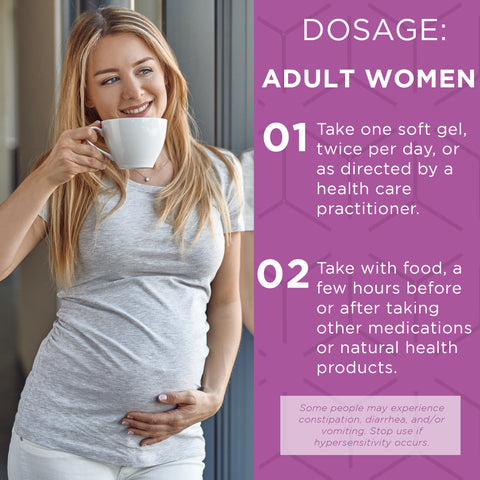 Elan Healthcare
Momicare: Iron-Enriched, Folate-Fortified Prenatal Vitamins
Essential Nourishment: Prenatal Vitamins Fortified with Iron and DHA
7-15 day shipping. • Free shipping over $100 • A+ Customer Support
Please note that we have 2 different packaging. You will receive one of the looks Above.
Show more
Embrace the journey of motherhood with Momicare Advanced Prenatal, an Advanced Dietary Supplement crafted to support your wellness and your baby's healthy development.
Comprehensive Nutritional Support: Your Preferred Prenatal Supplement
As an essential Prenatal Supplement, Momicare offers comprehensive nutritional support. These Prenatal Vitamins with DHA, EPA, and a broad spectrum of vitamins and minerals, support your baby's development and your health throughout preconception, pregnancy, and breastfeeding.
Catering to Special Diets:
Prenatal Vitamins for those who avoid bovine gelatine
Our Prenatal Vitamins with a gelatine-free shell are ideal for those with specific dietary needs. They're GMO and gluten-free, making them suitable as Non-GMO Prenatal Vitamins and Gluten-Free Prenatal Vitamins. The gelatine-free shell is free of all animal derivatives, perfect for those who are looking to avoid bovine gelatine.
Enriched Prenatal Vitamins for Hair Growth
Momicare's blend of vitamins and minerals also supports lustrous hair growth during pregnancy, making it an excellent choice among Prenatal Vitamins for Hair Growth.
The Importance of Iron: Prenatal Vitamins with Iron
Iron is essential during pregnancy. Our Prenatal Vitamins with Iron help pregnant women meet Health Canada's recommended iron intake in conjunction with a healthy diet.
Uncompromised Quality: High-Quality Prenatal Vitamins
Every softgel is meticulously designed to be easy to swallow, making them great for moms seeking Easy to Swallow Prenatal Vitamins. Plus, they're odor and taste-free, contributing to improved consumption adherence.
Essential

Active Folate

: Prenatal Vitamins with

Active Folate

Our vitamins are fortified with active folate, an essential nutrient for early fetal development and the prevention of neural tube defects. Opt for Momicare for your Active Folate Prenatal Vitamins needs.
Packed with Vital Nutrients: Prenatal Multivitamins
These are not just Prenatal Vitamins for Women; they're comprehensive Prenatal Multivitamins. From vitamins A, B6, B12, C, D, E to minerals such as Zinc, Magnesium, Iodine, and Omega-3 Fatty Acids, Momicare is the one-stop solution for all your prenatal nutritional needs.
Soft Gel Goodness: Soft Gel Prenatal Vitamins
Our Prenatal Softgels provide a superior experience compared to traditional gelatin capsules. Each of our Prenatal Vitamins Gel Capsules is gentler and easier to consume.
Advancing Your Health: One a Day Prenatal Advanced
As an Advanced Prenatal, Momicare is formulated for twice-daily use. Adult women are recommended to take one soft gel twice per day with food, ensuring that the vitamins and minerals are absorbed effectively throughout the day.
Be mindful of the known adverse reactions; some individuals may experience constipation, diarrhea, or vomiting. Stop use if hypersensitivity occurs.
Promote Your Baby's Growth: Prenatal Vitamins for Brain Development
Enhance your baby's early fetal development, especially the brain and spinal cord, with our Prenatal Vitamins for Brain Development. The inclusion of Omega-3 fatty acids, EPA, and DHA is essential for maintaining good health.
Perfect for Preconception and Beyond
Whether you're planning to conceive or are already pregnant, Momicare Advanced Prenatal Vitamins provide all the essential nutrients you need. From preconception to breastfeeding stages, trust Momicare for your nutritional needs.
Manufacturer: ÉLAN HEALTHCARE
Form: Softgel
Flavor: Unflavored
Count: 60.00 count
Get the nutrition you and your baby need with Momicare Advanced Prenatal – because a healthy mom means a healthy baby.
Success Story
By verified buyer
I have been using it for a week and I can saying that it is very good. I am still breastfeeding my one year old baby and as soon as I started using it I feel my energy coming back. I saw a big difference from that one I was drinking.
I really recommend it. No smell or taste. It worth the money."
Unleashing Momicare: The Optimal Prenatal Companion
Supports robust fetal development
Promotes lush, healthy hair growth
Boosts maternal, baby's health
Fortified with iron, active folate
Frequently Asked Questions
Unveiling Momicare: Your Optimal Prenatal Supplement for a Healthy Motherhood Journey
What are prenatal vitamins?
Prenatal vitamins are supplements designed for pregnant women or those planning to conceive. They're rich in key nutrients like folic acid, iron, DHA, and a range of vitamins and minerals to support maternal and fetal health.
Can you take prenatal vitamins without being pregnant?
Yes, prenatal vitamins can be taken even if you aren't pregnant. They're packed with essential nutrients beneficial for overall health. However, consult with a healthcare professional before starting any new supplement regimen.
Can men take prenatal vitamins?
While men technically could take prenatal vitamins, they are specifically formulated to support the nutritional needs of women who are pregnant or planning to conceive.
When to start taking prenatal vitamins?
Momicare Advanced Prenatal vitamins are suitable from the preconception stage, throughout pregnancy, and into breastfeeding. It's always advisable to consult a healthcare professional for personalized advice.
What is in prenatal vitamins?
Momicare Advanced Prenatal vitamins contain a broad spectrum of nutrients including DHA, EPA, Folic Acid, Iron, and various vitamins and minerals that support maternal and fetal health.
Do prenatal vitamins help hair grow?
Yes, Momicare Advanced Prenatal vitamins are formulated with a blend of vitamins and minerals that support healthy and lush hair growth throughout pregnancy.
Do prenatal vitamins make you gain weight?
Prenatal vitamins alone are unlikely to cause weight gain. They simply provide essential nutrients for maternal and fetal health. However, each individual's response to supplements can vary.
How many prenatal vitamins should I take a day?
Momicare Advanced Prenatal is designed for twice-daily use. It's recommended to take one softgel twice per day with food for optimal absorption of vitamins and minerals.
Do prenatal vitamins have iron?
Yes, Momicare Advanced Prenatal vitamins are fortified with iron, catering to the increased iron requirements of women during pregnancy.
What is DHA in prenatal vitamins?
DHA (Docosahexaenoic acid) is an omega-3 fatty acid in prenatal vitamins. It's vital for the healthy development of the brain and eyes in the fetus, and it also supports maternal health.