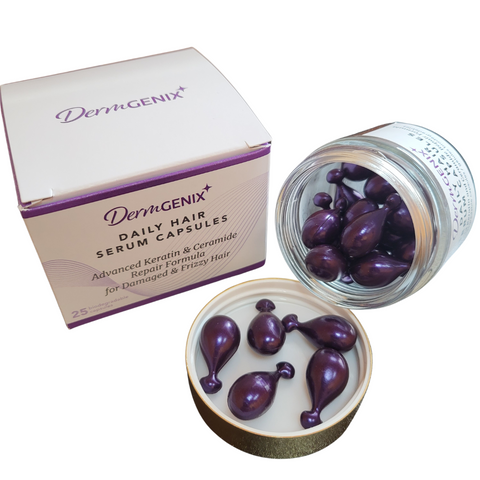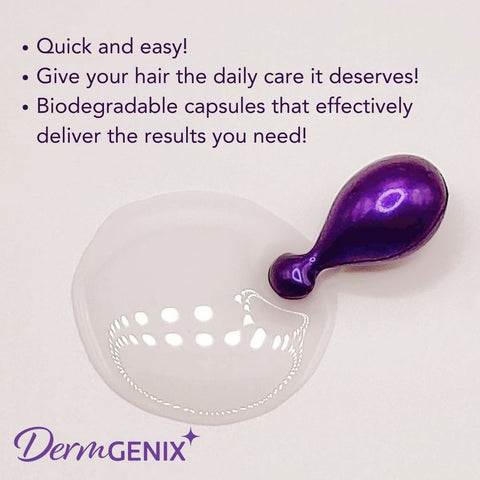 Elan Healthcare
Advanced Keratin & Ceramide Repair Formula for Damaged & Frizzy Hair
7-15 day shipping. • Free shipping over $100 • A+ Customer Support
Show more
Introducing Dermgenix Daily Hair Serum Capsules: Your Secret to Gorgeous, Healthy Hair!

Tired of dealing with frizzy, dull, and hard-to-manage hair? Say goodbye to your hair woes with Dermgenix Daily Hair Serum Capsules, the ultimate solution for achieving smooth, silky, and stunning locks.

Our revolutionary hair serum capsules are carefully crafted with a powerful blend of "special" silicone, active ingredients, and essential components such as Ceramide III UTMF, Keratin, Amino Acids, and Silk. This unique combination of ingredients works harmoniously to transform your hair, making it the epitome of shine, strength, and beauty.

Key Benefits:

🌟 Reduces Breakage: Our serum capsules are fortified with Ceramide III UTMF and Keratin to strengthen your hair from within, reducing breakage and promoting resilience.

🌟 Enhances Shine: Experience a radiant luster like never before. Dermgenix Daily Hair Serum Capsules enhance shine, giving your hair a dazzling, healthy glow.

🌟 Tames Frizz: No more battles with unruly frizz! Our formula helps you regain control and maintain smooth, manageable hair throughout the day.

🌟 Reduces Dullness: Say goodbye to lackluster locks. The infusion of Amino Acids and Silk restores vibrancy, eliminating dullness and reviving your hair's natural brilliance.

🌟 Increases Manageability: Brushing through your hair becomes a breeze with our serum capsules, leaving your hair feeling softer and more manageable.

Dermgenix Daily Hair Serum Capsules provide a natural, nourishing solution to transform your hair from lifeless to lively. Add these easy-to-use capsules to your daily routine, and watch as your hair undergoes a remarkable transformation.

Experience the magic of Dermgenix Daily Hair Serum Capsules and unlock the secret to gorgeous, healthy hair. Say hello to the radiant, silky, and manageable hair you've always dreamed of. Don't wait—order yours today and embark on your journey to hair perfection!